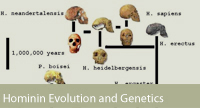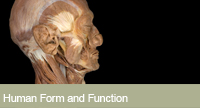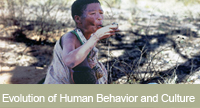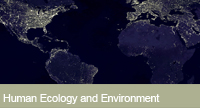 Requirements for the Minor
The IHB minor consists of courses in human form and function, human evolution and biological variation, human behavior, and the roles humans play in local and global ecosystems. The aim is to provide students with the background they will need as professionals in the 21st-century health sciences and many other fields that engage directly with aspects of human adaptation and welfare. A minimum grade of a C is required in all courses taken for the minor.
Students will take one core course in each of these four areas and three electives from at least two of them. At least four of the courses taken for the minor must be at the upper- division level (3000 or above). Students majoring in biology or anthropology may "double-count" courses for their major and for the IHB minor. Complete requirements are described on the IHB minor worksheet.
Hominin Evolution and Genetics
Core course:
ANTH 1020 Human Origins: Evolution and Diversity, or
ANTH 4252 Human Biology
Electives:
ANTH 1030 World Prehistory, An Introduction
ANTH 1050 The Evolution of Human Nature
ANTH 3211 Biology of Native Americans
ANTH 4234 Genes, Health, and Human History
ANTH 4261 Paleoanthropology
ANTH/BIOL 5221 Human Evol. Genetics*
ANTH 4281/6281 Primates
BIOL 2210 Human Genetics*
BIOL 3410 Ecology & Evolution*
BIOL/ANTH 5471 Quant. Models in Evo. Ecol*
*See Course Catalog for pre-requisites
Human Form and Function
Core course:
BIOL 2325 Human Anatomy, or
BIOL 2420 Human Physiology*

Electives:
ANTH 4133 Maternal and Child Health
ANTH 4271 Human Osteology
ANTH 4272 Forensic Anthropology*
ANTH 4291 Evolution of Human Health
BIOL 3310 Comparative Vertebrate Morphology*
BIOL 3320 Comparative Physiology*
BIOL 3330 Behavioral Neurobiology*
BIOL 3380 Evol. & Physiological Basis of Health*
BIOL 5315 Advanced Human Anatomy*

*See Course Catalog for pre-requisites
Evolution of Human Behavior and Culture
Core course:
ANTH 4461 Behavioral Ecology and Anthropology*, or
ANTH 4481 Evolutionary Psychology
Electives:

ANTH 4138 Anthropology of Violence and NonViolence
ANTH 4183 Sex and Gender
ANTH 4184 The Ecology of Hunter-Gatherers
ANTH 4450 Biol. of Human Growth Develop
BIOL 3430 Behavioral Ecology*
PSY 3290 Stress and Development

*See Course Catalog for pre-requisites
Human Ecology and Environment

Any of the following courses will satisfy the core course requirement in this area.

ANTH 2055 Human Ecology of Sustainability
ANTH 4186 Human Ecology
BIOL 3410 Ecology and Evolution*
BIOL 3460 Global Environmental Issues
BIOL 5440 Urban Ecology*
BIOL 5490 Ecosystem Ecology*
*See Course Catalog for pre-requisites